Attorney Awni Yasin is an experienced Milwaukee criminal defense lawyer who is committed to providing the highest caliber criminal defense services in the state of Wisconsin.
Attorney Awni M. Yasin
Criminal Defense Lawyer Awni Yasin was born in Puerto Rico and grew up in Milwaukee from age 11. He attended college in Milwaukee at Marquette University. While at Marquette, Awni was inducted to the Alpha Sigma Nu Honor Society for students who distinguish themselves in scholarship, loyalty and service. Selection to Alpha Sigma Nu is one of the highest honors that can be given on a Jesuit campus. Awni was also chosen as a recipient of a Marquette University Academic Scholarship. In addition, Awni was active in the Latin American Student Association. He received his bachelor's of science degree with a major in biology in 1992.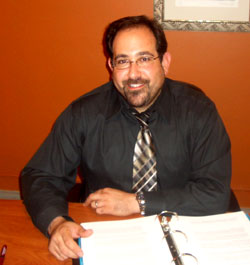 Immediately following college at Marquette, Awni enrolled in medical school at the University of Wisconsin in Madison. He ultimately decided that the medical profession was not a good fit for him and he withdrew in good standing.
Awni returned to Milwaukee to attend law school at Marquette University. While completing his law studies, Awni also worked as a law clerk with an insurance defense law firm. Marquette Law School awarded Awni with the St. Thomas More Scholarship Award. He was a member and participated in the Hispanic Law Student Association. Awni earned his Juris Doctor from Marquette Law School in 2000.
Mr. Yasin's first work as an attorney was for a commercial litigation firm. He then opened and managed his own general practice law office, concentrating on criminal defense, traffic, immigration, and estate planning law. Later, he narrowed his focus to criminal defense and traffic law as an associate in a Milwaukee criminal defense firm.
In 2006 Awni joined two other seasoned attorneys to create a practice devoted to criminal defense work. He was a partner in Ritter Rypel & Yasin and later Rypel & Yasin, before Awni decided to return to single practice. He formed Yasin Law Office in 2012 with the commitment to provide the highest level of service and competent, zealous, thoughtful criminal defense representation.
Attorney Yasin is particularly experienced with matters involving criminal traffic offenses in Milwaukee and surrounding counties, including drunk driving, license revocation/suspension, commercial and occupational licenses, and traffic citations. He uses his significant experience as a criminal defense attorney to help build a winning defense. Awni devotes his time to his clients and their cases, achieving the best results for each individual situation.
As a fundamental part of Awni's practice, Awni is fluent in Spanish and Arabic.
Contact Milwaukee defense attorney Awni Yasin today in Milwaukee at (414) 333-0046.
---

What stood out to me the most, was Attorney Yasin's ability to relate with me. I felt like he knew where I was coming from and what I was trying to achieve."
---
Areas of Practice:
100% Criminal Law
Litigation Percentage:
100% of Practice Devoted to Litigation
Bar Admissions:
Wisconsin, 2001
U.S. District Court, Eastern District of Wisconsin, 2002
U.S. District Court, Western District of Wisconsin, 2002
Education:
Marquette University School of Law, Juris Doctor (J.D.), 2000
Marquette University, Bachelor of Science (B.S.), 1992
Practice History:
Law Office of Awni M. Yasin LLC, Partner, 2012-present
Rypel, & Yasin LLP, Partner, 2008-2012
Ritter, Rypel, & Yasin LLP, Partner, 2006 - 2008
Hartley Law Office, Associate Attorney, 2005 - 2006
Yasin Law Office, Attorney/Sole Proprietor, 2002 - 2005
Hinshaw &amp Culbertson, Law Clerk, 1998
Languages
Fluent in Spanish
Fluent in Arabic
---